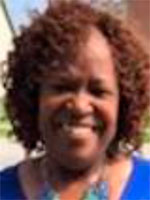 "Send Me I'll Go!" Pam believes that she was called to go into all the world and spread the good news of Jesus to the least of these about the true and risen Savior. Her love for her family and service to others is in her blood. She views each day as a day of opportunity to help someone see Christ through her actions.
As a founding member of Women Organizing Women Inc., she currently holds the office of Executive Director for the Indiana Chapter. In this role she works hand in hand with the President and other chapter members in the Midwest Region to develop, plan and implement conferences and outreach programs for the organization and teaching life skills designed to spreading the Christian religion locally and abroad. The organization is comprised of women from all walks of life in the United States and Ivory Coast, Africa, who are from various industries and work diligently to mentor and coach other women who are striving to make a difference in their communities.
She is the Director of Client Services at the Sojourner Truth House located in Gary Indiana. This is a ministry of the Poor Hand Maids of Jesus Christ. Their mission is to provide holistic services to homeless women and their children. Her love for all people is what motivates her in evangelistic and ministry outreach. In 2016 she was named the Voices for Victims Award by the Indiana Attorney General Greg Zoeller for her community outreach efforts to bring awareness about human trafficking and domestic violence and received the award from NASW Region 1 as Social Worker of the Year in 2017. She has developed numerous programs to meet the needs of homeless families for over twelve years.
On February 9,1998 she sought the Lord in her time of distress and He answered and said….
"Go ye therefore, and teach all nations, baptizing them in the name of the Father, and of the Son, and of the Holy Ghost: Teaching them to observe all things whatsoever I have commanded you: and, lo, I am with you always, even unto the end of the world. Amen."
Pam has been going ever since and declares "I'm not Tired Yet!"